10 Things to Consider When Renovating a Kitchen
When renovating your kitchen, it's important to consider both the functional aspects and aesthetic design of your space. Kitchen renovation is also an investment that may increase the overall value of your home. It is important to take particular measures to make your kitchen remodeling an enjoyable place to spend time.
To ensure that your renovation yields a positive outcome, there are several things you'll want to keep in mind to make sure you get the most value for your money, time and effort spent.
1. Take your Budget into Account
To remodel your kitchen, you have to decide your budget so that you will be able to manage your expenses accordingly. Although it is one of the most expensive renovations but can be easily managed by consulting with a designer/ kitchen specialist. Based on an approximation, an adorable kitchen consumes about 5% to 10% of your entire home's value.
However, you can invest sensibly, and smartly and save money. You should go through remodeling magazines, kitchen renovation designs, and websites related to kitchens for budgeting hints.
Once you have decided on your budget, enlist the categories and divide your budget into each category. Suppose that if you are working with a contractor, you can consider at least 17% of labor of your total budget.
For your convenience, the list of expenses for kitchen remodeling is given below for better approximation.
Walls, doors, and windows 9%
Floors 7%
Lighting 5%
Design 4%
Plumbing and fixtures 4%
Cabinets 29%
Labour 17%
Appliances 14%
Labour 17%
Countertops 10%
Miscellaneous 1%
Note: These are just expected figures to give you a better idea of what to expect. Keep these conjectures in mind while making your budget. Make sure not to exceed your total budget if you want to invest more in a special category and manage it within the defined cost.
2. How do you Envision your Kitchen?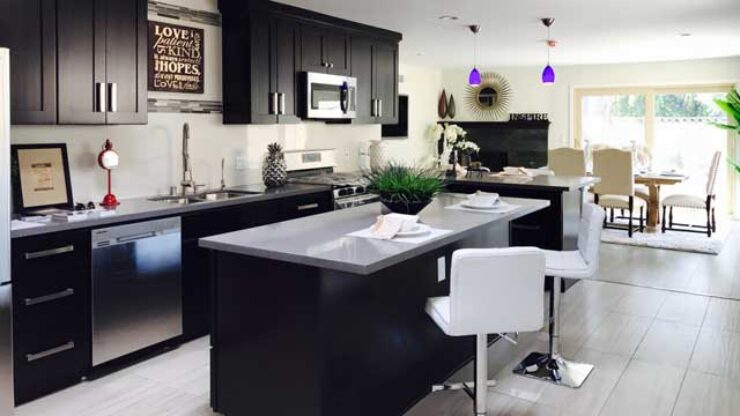 The most crucial thing is what kind of look you want in your kitchen. Examine the current layout of your kitchen and think about what additional aspects you want to add and what you are going to eliminate.
Considering your family's needs and your lifestyle will help you make the right decision. It may be your family's primary space for socializing and entertaining, and even a place to do homework after school. So, in this case, you have to pay extra attention to your seating choices and counter space.
Whenever there is a lack of storage, look for areas where it can be expanded and maximized. All of these factors should be in mind while planning the overall design of your kitchen.
Once you've understood these basics, you are ready to tackle your kitchen reno! To keep things running smoothly, read on.
3. Organize a Schedule and Follow it Strictly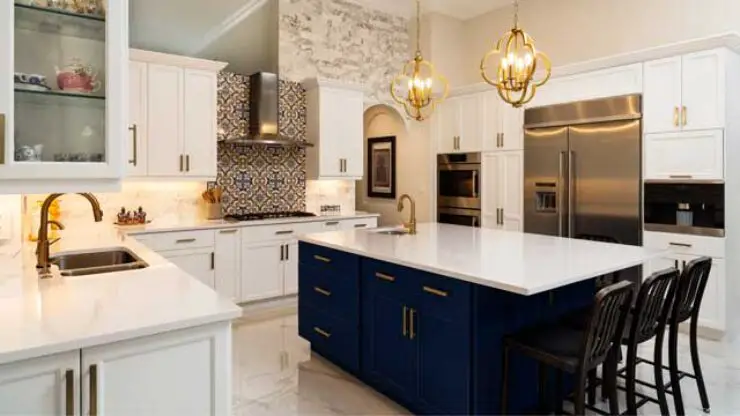 After planning the ultimate design of your kitchen don't start to pull down your old kitchen. Ensure you have all the basic and core apparatus like appliances, cabinets, plumbing fixtures, etc available in advance.
Moreover, make sure the plumber, electrician, tile setter, and subcontractors are scheduled ahead of time as well. Now with all these necessities, make a schedule to follow daily.
4. Select an Adorable Interior Design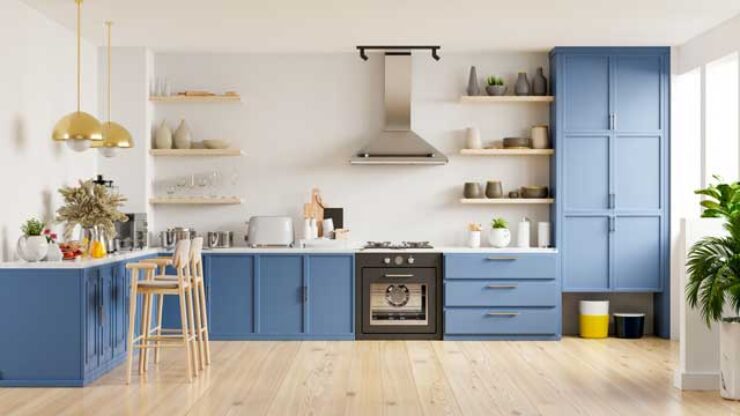 A well-designed and high-quality kitchen will last you and your family for a long time. While gathering information, searching for ideas online and taking ideas at local decor stores is fine but to come out of the box you need to have a consultation with an interior designer to get a broader idea.
They analyze the workability of your existing layout, make the most appropriate suggestion (within your requirements and budget), and accommodate all of your needs.
To cut a long story short, they will help you from A to Z of your project ensuring that all of your concerns have been enacted.
5. Use Creative Shelving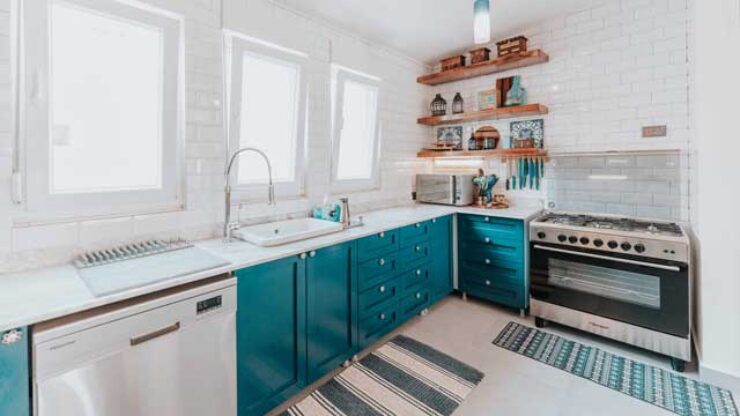 If you are the owner of an impressive crockery collection, or you are an eager cook who likes to have essentials close at hand then open shelving or hidden within a cupboard is a great choice.
It needs a lot of effort and proper dedication to keep your shelves attractive and seek. Here we have some ideas for your shelves:
Showy look: A bunch of shelves performs well to add the element of interest that catches the eye. It is best to keep the shelves just above eye level within easy reach for frequently used items like glasses, plates, and mugs.
Adeptly fitted: Adjust your shelves wisely and look for neat and self-effacing methods of adjustability. For example, 5mm shelf pegs with a limited number of peg holes for each shelf.
Coherent look: Display the things on the shelves in groups of three, four, or five lines so that it gets a presentable look. While choosing the holistic look, if you want shelves of self-explanatory material, allow your display to do all the talking.
Shelving in recess: open shelving can create a good impression and be pleasing. It's cheaper than a fully closed unit.
Use of wood: Get thoughtful about the thickness of the shelves. If you're dealing with wood, it plays its role in giving a strong, natural, and confident appearance.
Be of interest with colors: in the case of color scheme, even personal experience is unable to ensure exact colors. It comes naturally influenced by current fashion. Make sure the color in a kitchen should feel pleasing in the long term.
6. Cabinets Mainframe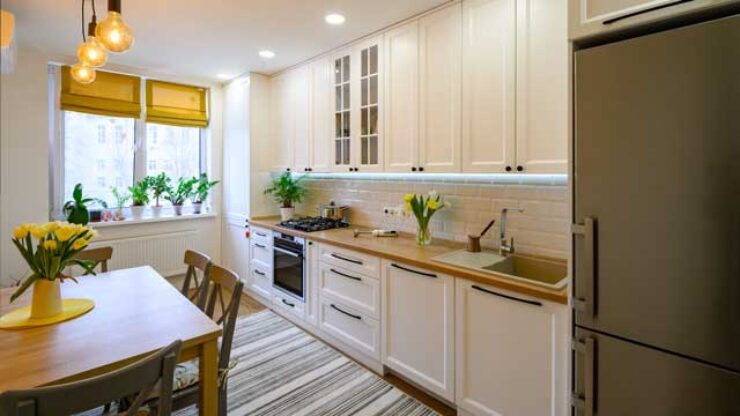 A structured and absolute kitchen cabinet design allows you to find your essentials with an easy approach. You need to come up with a design that is according to the taste of your family's lifestyle.
Sometimes cabinets are not the right option for you when you are confined by the lack of space. And you require more countertops to work with.
You can tackle these issues by adding floor cabinets with countertops. In case of replacement of cabinets, choose the best one with the same colors that you have already installed.
Even a slight difference matters a lot, it may devalue your house if you are intending to sell it. Consider existing cabinets as scrap if they are too old before adding new ones.
You can add cabinets on bare wall space above the existing counter space. Furthermore, aside from the wall art to increase the storage space without indulging in major changes.
7. Add a Permanent Kitchen Island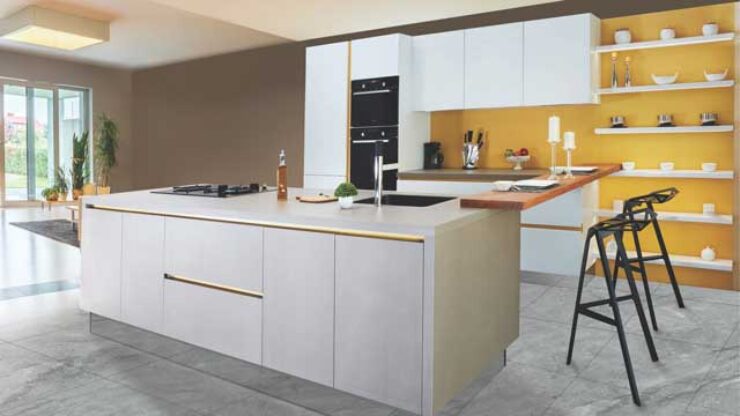 It is so tiresome to slice vegetables on your wheeled kitchen cart. Add a permanent base kitchen island with base cabinets to confine your kitchen's center workspace while increasing your kitchen's storage space and counter space as well.
It is not possible to install an island in some kitchens due to their size. Make sure you have 36 inches of clearance all around before installing it.
8. Choose Appliances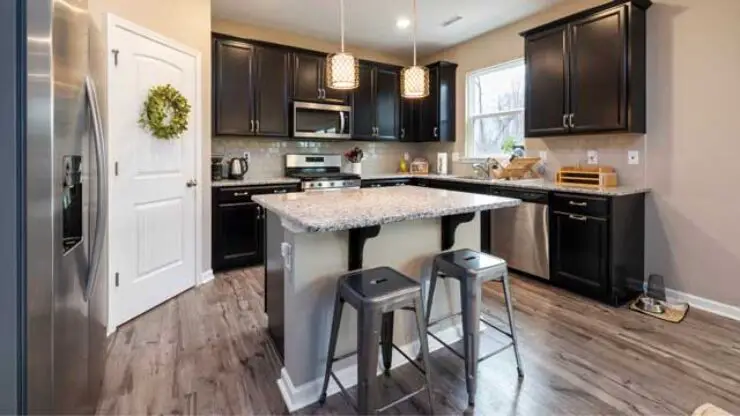 One of the best aspects of your kitchen might be the appliances. With professional-grade ranges that come with built-in refrigeration and high-quality ventilation hoods, you can have your cake and eat it too. Get the best you can afford. The builder needs to plan for built-in appliances from the start.
Cooktops: Do you want to use gas, electric, or induction? The choice is yours. Consider efficiency as well as performance when choosing a cooktop.
Ovens: A hopped-up convection oven, which cooks the food (even in large quantities) fastly by circulating the heat with a fan, will help you to get dinner on the table more than a conventional oven.
Refrigerators / Freezers: You can buy a counter-depth refrigerator/freezer that will look like a built-in unit. When it comes to performance, the compressor has the most impact.
A refrigerator-freezer with a single compressor works double time to maintain a moist fridge and a frozen freezer. A dual compressor unit is costly but keeps your food fresh for a long time.
Microwave: Consider a convection microwave that also functions as a fast-speed oven to eliminate the need for a double oven. Only you need more space for the microwave as it consumes more space.
9. Make it Feel Extra Hospitable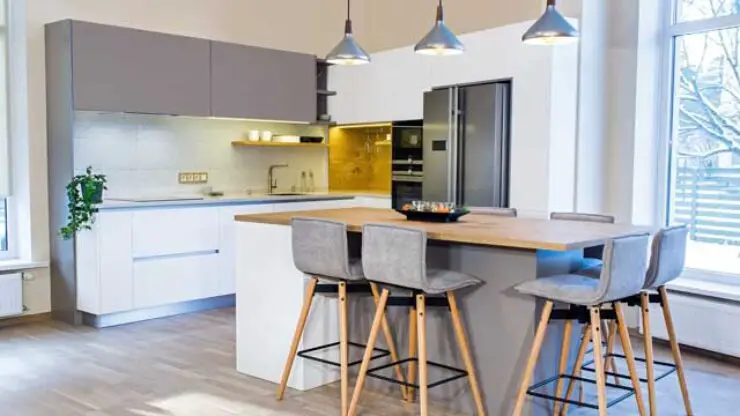 Having a bright set-up in your kitchen isn't limited by how much natural light it gets. Featuring glaring lighting looks at a sunny disposition.  The copper pots present are unlacquered, and the soapstone counters are quickly patinated.
Layer lights (reviewed light, LED under-cabinet light), and pendant fixtures to create a dramatic look. To avoid getting light from your own shadow, place the light in the right location.
Install mini spotlights at the top to display. In the kitchen, you'll feel right at home because of its lived-in atmosphere.
10.  Hide Unattractive View with Stained Glass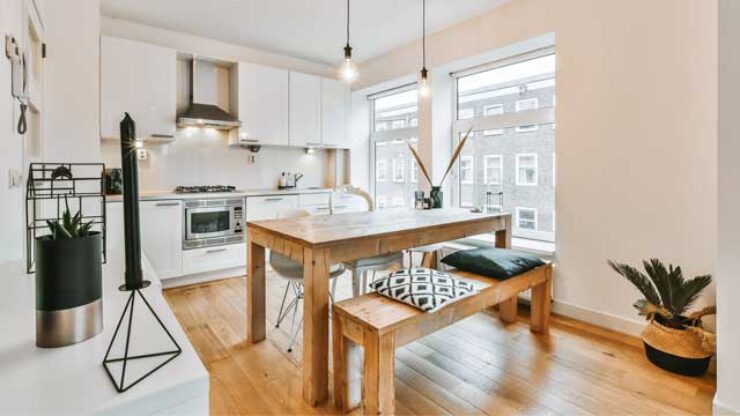 Once, stained glasses were specialized for wealthy individuals and organizations but over time, it gradually becomes more affordable to the average person.
Stained glass is both good-looking and clever. Replacing glass panes with colorfully painted ones will enhance street-level privacy.
This is an excellent option when you want to instigate colors and choke a view without stopping up all the natural lights.
Conclusion
When considering what to do with your kitchen renovation, there are many things you should think about. From the type of material you want, the layout of your space, and what features are essential for you and your family, many different factors should be considered.
For this process not to feel overwhelming or confusing, it's best to take your time and do some research on what would work best for you.
We hope that this list has been helpful for you and that you can use it as a starting point for your own considerations. Good luck.
FAQs
What is the First Thing to do When Updating a Kitchen?
The first thing you should do when updating your kitchen is to take an inventory of what you need. Do you need new appliances? Do you need a new sink or counters? What about flooring or lighting? How much space do you have for storage? Once you know what needs to be done, then it's time to look at what your budget can afford.
What Adds the Most Value to a Kitchen Remodel?
The number one thing that adds value to a kitchen is the countertop. There are many different types of countertops, such as granite, quartz, wood, laminate, and marble. Countertops can also be customized with patterns or colors which can be easier on the eyes and add character to your space.
How Often to Remodel a Kitchen?
Some people may need their kitchens updated every few years, while others might be able to go ten or more without feeling the need. The best way of figuring out how often you'll want or need a new kitchen is by considering what kind of life you live and how much time and money you want to spend on home renovations.
Recommended For You: