How to Clean Kitchen Faucet Head Without Vinegar
Have you ever wondered how to clean your kitchen faucet head without using any vinegar? Or how to get rid of hard water stains? Cleaning the part of your faucet where the water comes out will make it so that water flows more easily and can even help prevent clogging and other issues.
There's no need to use vinegar since it can damage some materials in the process of cleaning, but there are ways to clean the faucet head without using any vinegar at all.
Cleaning your kitchen faucet head regularly can help you to maintain that clean look throughout the year, especially since water and crumbs can get stuck in there easily if it isn't cleaned regularly enough.
This step-by-step article will show you how to clean your kitchen faucet head and keep it clean, using simple home solutions that you can find in any grocery or hardware store and very little time, effort, or money.
How to Clean Your Kitchen Faucet Head with Baking Soda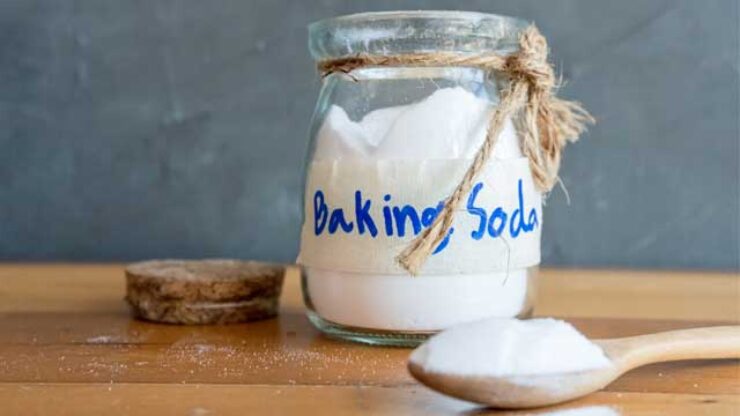 Baking soda is one of the most versatile and inexpensive products that you can use in your home. One of the many uses of baking soda is as a cleaner. Baking soda can be used to clean various surfaces, including sinks, bathtubs, toilets, stovetops, and even coffee pots.
To keep your kitchen as sanitary as possible, you should keep it clean and spotless. Here's how to clean your kitchen faucet head using baking soda, an easy and effective home cleaner that will leave your kitchen looking better than ever.
Supplies Needed
Baking Soda
Toilet Bowl Cleaner
Sponge or Brush
Water
Paper Towel
The Process
Remove the sprayer nozzle from the faucet by unscrewing it.
Pour a generous amount of baking soda into the cavity where the sprayer nozzle is located, ensuring that all of the baking soda goes down into this cavity to completely cover all surfaces inside there.
Reattach the sprayer nozzle to the faucet and allow it to sit for at least 10 minutes.
After 10 minutes have passed, use a rag or paper towel to wipe off all of the residue left behind on the surface of the faucet's cavity and handle (making sure not to use any water during this process).
Then rinse the rag or paper towel with hot water, shake out any excess liquid, and wipe again to remove more residue.
Next, turn on the faucet and give it a quick test run before putting everything back together; if you notice anything still sticking around then you can repeat these steps one more time before giving everything another once over.
How to Clean Your Kitchen Faucet Head With Lemons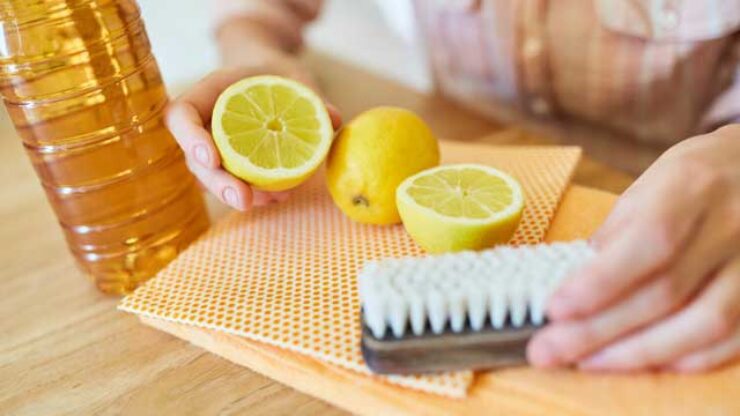 Lemon is not only used for food purposes but it is used as a natural cleaner to remove stains and debris from dirty surfaces. Here are the steps:
Supplies Needed
A lemon
Baking Soda
A toothbrush
Cloth pieces
The Process
Cut a lemon in half and place one of the cut sides on the top of the kitchen faucet head.
Fill a cup with water and pour it over the cut side of the lemon until it runs down into the sink and onto the other parts of your faucet.
Let it sit for 15 minutes or until it dries before rinsing off any residue and using it again.
Wash the area around the faucet head and remove any debris. Rinse off the lemon and let it dry before using it again.
How to Clean Your Kitchen Faucet Head with Dish Soap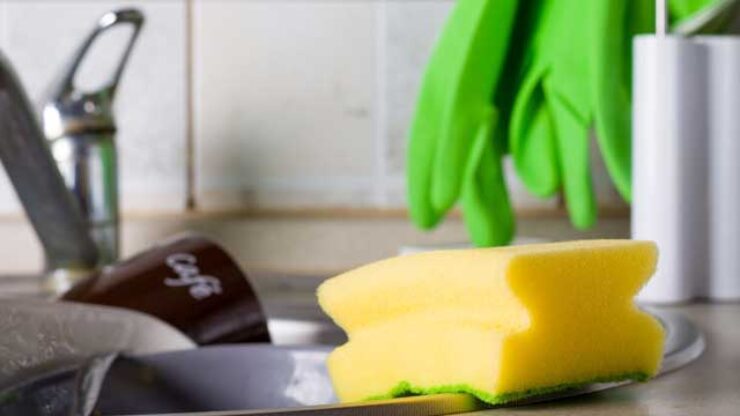 Dish soap isn't just good for dirty dishes, it can also be used to clean off kitchen faucet heads too. Whether you have hard water that has been building up or if you are simply looking to remove the buildup of soap scum and build-up, dish soap will do the trick.
Because most dish soap is pH neutral and non-toxic; you won't have to worry about any dangerous fumes or residue left behind on your faucet head once you've finished cleaning it off with the dish soap solution.
Supplies Needed
Small container
Some dish soap
A toothbrush
A rag or paper towel
The Process
Remove the metal cap on top of the nozzle that sprays water.
Fill a small bowl with warm water, add a teaspoon of dish soap, and mix well.
Put on rubber gloves if you have them available so the chemicals don't get under your fingernails or in any cuts you may have on your hands.
Dip your fingers into the bowl and apply some of the solutions onto each spot where there is build-up.
Use a paper towel or cloth to wipe off excess residue until it's all gone.
Rinse out the sink with hot water, replace the metal cap, and turn off the water for 30 seconds before turning it back on again for about 30 seconds more to rinse out any remaining residue from inside the pipes.
How to Clean Your Kitchen Faucet Head with Coca Cola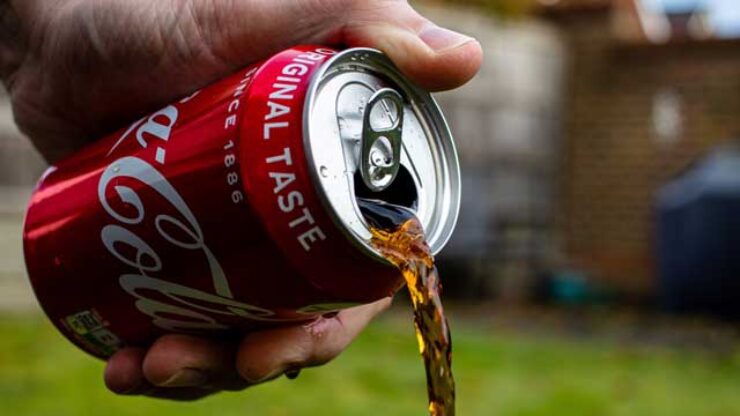 Cleaning the kitchen faucet head can be hard, but not if you use this great hack. Instead of using expensive cleaning products, you can easily clean your kitchen faucet head with Coca-Cola.
It's cheap, and it works like magic. Just follow these simple steps to learn how to clean your kitchen faucet head with Coca-Cola.
Supplies Needed
Coca-cola
Clean cloth or paper towel
Water bowl
The Process
Remove the sprayer head from the faucet.
Get a bowl of hot water.
Pour in coca cola into the bowl and mix completely.
Drop the faucet head into the bowl and let it soak for five minutes.
Take the head out of the mixture, pop off the screen on top, wipe down any remaining grime, then reattach it to the base of the faucet.
How To Clean Your Kitchen Faucet Head With Hydrogen Peroxide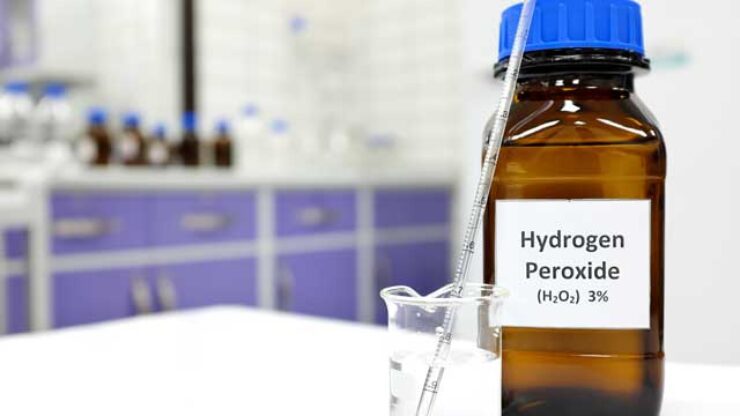 You can use hydrogen peroxide instead to quickly remove the buildup and restore your kitchen faucet head to its original shine and appearance. It's much safer than the harsh chemicals you'll find at the store.
Supplies Needed
Plastic wrap
Paper Towels
Hydrogen Peroxide
Toothbrush
Dry cloths
The Process
Rinse the faucet head by spraying water onto it until it is thoroughly wet, and you can see the scale.
Pour hydrogen peroxide into a bowl, submerge the faucet head, and let it soak for 10 minutes.
Remove the faucet head from the hydrogen peroxide solution, rinse it off under running water, and dry it with a towel or cloth.
You may want to take apart and soak each piece of your faucet separately. If you do so, it is a good idea to put a cloth or paper towel between parts, so they don't get stuck together while they're soaking. Then you can wash each part individually as well and dry it with a soft cloth before reassembling it.
Conclusion
Cleaning the head of your kitchen faucet is an easy DIY project that can be done in minutes. All you need is a little creativity and some natural ingredient to do this task. Hope this article will help in cleaning your kitchen faucet head to recover its shine back.
Recommended For You: