How To Choose The Right Curtains For Bedroom?
Curtains play a vital role in the decoration of any home. They are essential decor items that can establish the overall ambiance of a space.
In particular, bedroom curtains are essential for creating a private and relaxing sanctuary. The perfect curtain, with appropriate fabric, length, texture, and color, can add a touch of luxury and sophistication to any bedroom.
Whether you're searching for canopy bedroom curtains or window curtains, there is a style that will suit your preferences.
The right curtains can help set the mood of a room by filtering light, providing privacy and protection, and adding color, texture, patterns, and depth to the overall design of a space.
This post will assist you in narrowing down your options and selecting the ideal curtains for your bedroom.
How to Choose the Right Curtains for Bedroom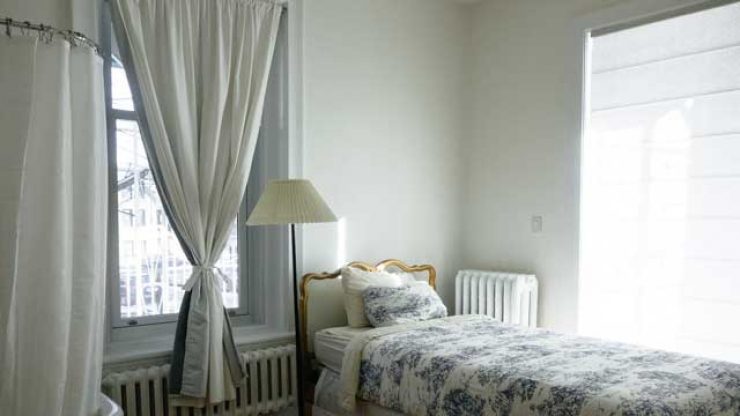 These are some of the most important things to consider while selecting a curtain for your bedroom:
Fabric
Whenever it comes to selecting the proper curtains for my house, deciding on the perfect fabric may be a daunting task. The material has a significant impact on the appearance of the curtains and, by extension, the room.
There are numerous fabrics that choose from, including sheer lace, lightweight cotton, moderate-weight brocades, and rich velvet.
When choosing the fabric, keep the following two criteria in mind:
The amount of sunshine you would like to come in.
Your room's ambiance and decoration. Heavier materials, for example, are better suited to more conventional interiors, while sheer fabrics are best suited to much more minimalistic areas.
Keep in mind that each fabric drops differently from an incline and, as a result, will appear differently when folded and dragged back.
Privacy
First and foremost, ensure that your curtain does not infringe on your privacy. Excellent curtains must keep your room dynamic and light while also providing some privacy.
Sheer privacy curtains, blackout curtains, multilayer curtains, & hanging curtains are among the ideal drapes to choose from for privacy.
Wash style
Decide if you'll choose dry-clean-only or machine-washable curtains – it'll save you money and energy in the longer term. According to Consumer Reports, attempting to clean high-quality curtains on your own can destroy them.
Deciding about whether to go with a machine-washable or dry-clean-only curtain ahead of time will be quite beneficial in the long term. Curtains of high quality must be washed in a certain way. To prevent wasting time and money in the future, figure out which wash style is ideal for your curtain.
Curtain Length
Whenever selecting curtains, one of the most important aspects to consider is length. There will be five typical curtain lengths:
63 inches
84 inches
95 inches
108 inches
120 inches
How far you go determines the elevation of your window and ceilings and the effect you want to accomplish. Curtain lengths are calculated by counting from the rod pockets (where your curtain hangs off the curtain rod) to the base of the material.
To determine out the Curtains that fall precisely to the floor level are popular. For a much more theatrical impression, choose a curtain dimension that is a few inches longer, so that the curtains puddle on the floor.
If you have children, though, you should hang drapes a few inches above the floor. Another traditional solution for tiny windows is to end curtains at the sill, but full-length curtains may work well too.
Hardware
Curtains are typically available in a range of mounting styles, ranging from the more contemporary hooks and tab tops to rod pockets, loops, and pleated forms.
Rings are perfect for adding a few inches of height to your curtains while also highlighting your hardware. This style is versatile and may be used with any decorating style.
Rod pockets, grommets, and tabs tops are more modern and cost-effective because they do not require additional rings, whereas a pleated style is more classic.
Hardware is also available in a variety of styles, ranging from industrial to modern and classic. To bring elegance to your windows equipment, you can always add elements like fasteners and finials to your curtains.
Which Curtain Colors and Patterns are Best for the Bedroom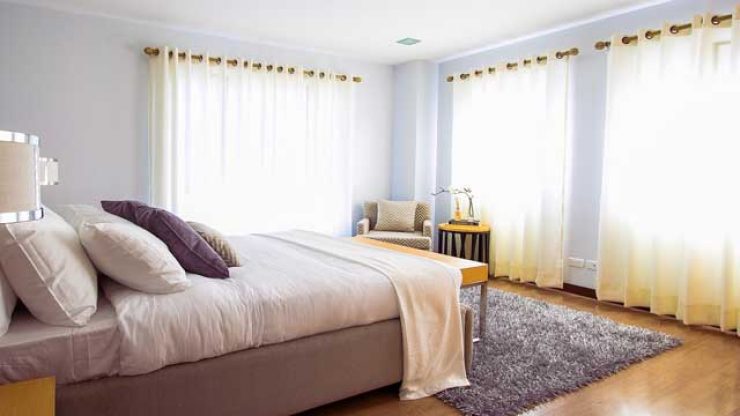 When selecting colors and designs for your bedroom curtains, consider whether you wish the curtains to pop out or merge with the room decoration.
Make a dramatic statement with black, blue, grey, bright reds, yellow, orange, green, or purple. If you really want a soft aesthetic that integrates with the rest of the space, go with neutrals, but make sure you pick the proper kind of material to manage light.
Patterned curtains work nicely when there aren't too many designs in other components of your bedroom, such as beds, furnishings, upholstery, carpets, and decorative wall.
Starting From tiny dots, graceful stripes, and chequered to geometric designs and wacky graphic prints, you have a broad choice to pick from when you have solid color home décor items as indicated above.
Although, if you have other pattern pieces within your space, opt for solid-colored curtains for greater coordination.
What are the Different Styles of Curtains for the Bedroom?
Curtains are available in a variety of design styles. Here is a selection of styles that are appropriate for usage in a bedroom. Choose to use a style that complements the rest of your home's decoration.
Swags or Scarves
These are window toppers that are usually utilized to offer a feminine and sentimental touch to the room. They are generally draped over the curtain rod or hanging freely at each window frame's corners.
Designers, on either hand, advise combining it with other window coverings because it cannot give privacy, light control, or insulation on its own.
You can combine them with your bedroom curtains to create a one-of-a-kind look. To add style to your windows, you can drape swags or window scarves in a variety of ways.
Gathers
It's a conventional yet casual curtain opening style that works well with small windows. Random pleats run the length of the upper panel of a conventional gather header.
A row of pockets on the reverse of the panels allows them to be hung with curtain hooks on a rod. These curtains can be hung on rails as well.
Pinch Pleats
This style has a classic appeal that is ideal for a conventional or beautiful bedroom. They have uniformly arranged pleats that are squeezed together and sewn at the pinnacle of the curtain.
The pleats are weighted at the base of the curtain seams, causing the curtains to drop uniformly and softly. Pins hooks are sewed at the top of the curtain panels and are then connected to curtain rings or a traversing rod to suspend the curtain.
There are several types of pinching pleat curtains accessible, including five-finger, four-finger, three-finger, two-finger, and French pleats.
Tab Tops
Tab-top curtains, similar to grommet curtains, have a continual upper panel, but instead of holes, they have material loops or tabs all the way down the panel.
Typically, the tabs are roughly 2″ wide. The panels fall straight back down when the curtain rod passed through every loop.
Grommets
This curtain type has a continuous strip at the peak with round holes. Heavy fabric or metal rings are affixed to these holes. When installing grommet curtains, you'll require a curtain rod that can go through all holes.
Conclusion
Consider the overall ambiance of your room while choosing a perfect curtain for your bedroom. The perfect curtains can make a huge difference in the look and feel of your room.
We are confident that if you put this and other recommendations in this post into practice, you will get it right and finish up with a look you adore.
FAQs
Which Curtain Colour is Best for Bedroom?
The best curtain color for a bedroom depends on personal preference and the room's decor. Neutral colors like white, beige, or gray are versatile and calming, while bold colors can add drama and personality.
How to Choose Curtains for Dining Room?
When selecting curtains for a dining room, consider the room's color scheme, decor style, and lighting. Choose a fabric that complements the furniture and wall color, and ensure that the length and style of the curtains suit the room's size and shape.
Do Curtains Make a Room Look Bigger or Smaller?
Curtains can make a room appear smaller if they are heavy, dark, or cluttered. Light and sheer curtains can create an illusion of more space and make a room appear larger.
Do Curtains have to Touch the Floor?
No, curtains do not have to touch the floor. The length of the curtains depends on personal preference, the style of the curtains, and the size and shape of the window. Some people prefer curtains that hang slightly above the floor, while others like floor-length curtains.
Recommended For You: