Best Clothes Drying Rack For Small Spaces
Whether you're tired of drying wet clothes from your washer and dryer or if you need extra space to dry hand-washed delicate, a durable, space-saving clothes-drying rack could make a huge difference.
when you choose the proper one for your garments and put them in an airflow space, your clothes are dried before you realize it. Except for the one-time expense of acquiring one of the best clothes drying racks for small Spaces, you would not impose any electricity costs.
While that might not seem like a great deal of money to relinquish the comfort of immediately dry clothing, expenses accumulate over time, and many homes pay more than a hundred dollars per year on electric power claimed by their dryers.
However, if you don't have a backyard and your apartment is on the delicate side, it can become a bit of a space-stealer, so I've chosen a list of drying racks that work well in small places.
But which is the best clothes drying rack for small spaces on the market? I did the research, so you didn't have to.
Note: This website is supported by readers and if you click on our links we may earn a commission and as an Amazon Associate, we earn from qualifying purchases.
1. Bartnelli Accordion Wall-Mounted Drying Rack
The accordion drying rack is a stylish and functional way that will save space in your laundry room or shower. Wall-mounted drying racks are excellent space-saving options, particularly if you lived in a small house or apartment.
It's also compact, with the capacity to expand based on your drying requirements, making it very functional and at the top of our list.
This method is ideal for a heavy towel or little delicate clothing. Although there isn't a lot of space, it extends out far enough to give adequate air movement. It's also robust enough to hold large loads.
It does have a maximum of about 22 ft of area distributed across 8 rods. You should be able to hang up nearly an entire load of laundry. It has a weight capacity of 60 pounds, making it a beast, especially for a wall-mounted rack.
Pros
Capable of holding up to 60 pounds of laundry.
A pull-out system that can be adjusted.
Suitable for both large and small goods.
Makes use of unused space.
Cons
Difficult installation.
Many customers reported that the installation elements did not work.
2. Brightmaison Heavy Duty Clothes Laundry Drying Rack
If you're searching for a low-cost way to dry your clothing without a hassle, this drying rack is the way to go. It would not only save you storage space, but it would also save you money on energy expenses.
The rack could be hung on the wall to dry clothes, or it can be hung in the closets to allow you to quickly open and place your items inside it to dry without creating a mess in the center of the room.
This heavy-duty wall-mounted drying rack for your laundry room is designed to last and can withstand almost anything you throw (hang?) at it. This seems to be rather large without appearing heavy and can be easily stowed away when not in use.
It's ideal for air drying and preventing the wrinkles that come with using a machine dryer. It seems to be as sturdy as a bath towel rack which keeps your clothes and towels neatly organized.
Although installation is needed, it is a relatively straightforward process. The sturdy wall-mounted rack includes mounting hardware, so you'll have everything that you need to assemble it.
Depending on the materials used for your walls, you may need to add some extra hardware. With such a low price tag, you'd believe it will come with reliable hardware, but it doesn't.
Pros
Will save room space
Is heavy duty
simple to assemble
Easy to use and adaptable
Cons
It has sharp edges.
There is no hardware to speak of.
3. Pennsylvania Woodworks Clothes Drying Rack
Do you prefer wood over stainless steel or plastic? The Pennsylvania Woodworks Clothes Drying Rack is composed of durable maple hardwood.
The thick maple makes it rockhard and long-lasting. As a result, you could easily carry whole loads of dripping wet garments without even flinching.
It is available in four different sizes: large, x-large, small, and medium. The largest size expands to 42 inches when folded. So each housing arrangement has a viable solution.
It is appropriate for baby items, clothing, hand towels, and much more. The compact foldable rack can easily handle anything from onesies to crib sheets due to its depth. Regarding robustness & sturdiness, it also has a furniture-grade structure, hardwood slats, and wood dowels. When not in use, it folded away conveniently and unfolds in seconds when needed.
Because the drying rack is handcrafted in America, it should last a long time. Fans like how durable this rack is, especially when compared to the numerous flimsier alternatives on the market. According to The Spruce, "unprotected wood wasn't well for lengthy outdoor usage" and should be well ventilated out between usage.
Pros
Well-made, available in a variety of sizes, and not easily tipped over
Made of heavy-duty maple wood
Furniture-quality construction
Bends and expands in a matter of seconds
Cons
It must be left to dry between uses to safeguard the wood, making it unsuitable for use outside.
It grows molds.
4. CRESNEL Stainless Steel Clothes Drying Rack
Most drying racks are fragile, inconvenient, and incapable of holding even a half-load of laundry. Because of its vastness and sturdiness, a Cresnel Heavy Duty Stainless Steel Clothes Drying Rack overcomes all of these concerns.
You can hang goods on the metal bars to hold much more laundry or put things plain to dry, and there's a tiny bottom part for drying sneakers if you get stuck in the rain.
This is manufactured from stainless steel that is meant for both interior and exterior applications, as opposed to the cheap plastic or wooden clothes drying racks that I used in the past. It claimed to be rust-proof and resistant to bright sunlight. The rack folds to form an X-shape, with the top part measuring 58 x 24 inches. The Spruce have also featured it.
Pros
A large size may accommodate several goods (including shoes)
Sustainable stainless steel material
The form of the fold-out is robust
maybe utilized both inside and outdoors.
Cons
When utilized outside in humid climates, rust streaks occur.
It is costly
5. Honey-Can Wall-Mounted Drying Rack
If you have a smaller laundry room or none at all but need a drying rack, this is the best wall-mounted clothes drying rack for you.
This wonderful little laundry help closes flat when in use, making it the finest wall-mounted drying rack for any little space. It's smart, strong, and easy to hang from the ceiling or the walls.
Its matte white finish ensures that it will fit in seamlessly wherever you place it.
Pros
Extremely compact
Variable finish
Cons
It is not strong as a manufactured claim
measurements are incorrect
6. Amazon Basics Foldable Clothes Drying Laundry Rack
Conventional dryers frequently shrink, stretch, and harm specific materials. A folding drying rack can securely dry your clothes thus preserving the quality of the clothing for a longer time period. It also consumes no electricity, saving you money on your electricity costs. The drying rack is made from lightweight aluminum with an epoxy covering.
You can manage to do delicate hand washcloths and also regular loads of laundry with the Amazon Basics Foldable Clothes Drying Laundry Rack. This is a perfect way for hanging clothing in a handy and cost-effective manner. On this drying rack, the garments will hang properly together and remain out of reach, eliminating the need to overload the bathroom with towels.
You have enough hanging places for a whole load of laundry thanks to the 11 horizontal rods. The horizontal rods form a flat surface that is ideal for drying sweaters, while the remaining 7 rods are carefully placed below to accommodate everything from T-shirts to undergarments, socks, and towels. The added benefit is that it is simple to assemble and fold away for storage.
The portable rack is suitable for use in any chosen area, such as a laundry room, bedroom, terrace, or sunny porch. The metal rack's epoxy resin gives a clean look while also efficiently eliminating smell, stains, molds, and fungus.
Pros
Water-resistant
Lighter in weight
Epoxy coating
Cons
This rack is designed for Low-quality building
7. Household Collapsible Folding Wooden Clothes Drying Rack
This Household Basics drying rack includes a wooden frame but plastic rods, which one buyer likes for "hanging wet clothing on to dry so the woodwork doesn't wear out."
Another user, who has used her "good proportion of drying racks," says the plastic-lined rods are "a must over comparable wooden racks" and that hers "has raised back over the previous year."
And one college student claims that the plastic covering keeps their clothes from staining, adding, "I can put roughly half a load of laundry on the rack." It's not shaky at all, and it can withstand the weight of a bunch of clothes and sweaters."
Pros
Friendly to the budget.
Expandable design that folds up when not in use.
Sturdy construction.
Cons
The expanding knobs in the center point dent clothes as it dries.
This may be narrow to prevent you from putting garments fully flat.
8. Honey-Can-Do Tripod Clothes Drying Rack
Standard clothes drying racks can take up a significant amount of space. As a result, if you live in a small flat, the Honey-Can-Do Tripod Clothes Drying Rack could be a better choice.
It can keep up to 32 pieces of clothing at once using clothing hangers without occupying half the room. This way of hanging garments allows them to hang organically, allowing them to retain their natural shape for a longer period of time.
This is also ideal for longer clothing such as coats, dresses, and pants. It contains a button that automatically stretches the drying arm to make it easier.
It also folds up fast and occupies far less space than a standard drying rack. It's also worth noting that it's built from steel, so it's more than capable of holding a heavy load of wet garments.
Pros
Made of steel & Capable of holding up to 36 clothing
Dry clothing naturally for energy savings and keep them vibrating
Stands 64 inches tall
Push-button activation
Design that folds
Cons
If loaded with clothes, a high breeze will throw it over the outside
The bottom is neither wide nor strong enough to sustain the top-heavy hanging clothes, it can easily fall.
Advantages of Using a Drying Rack
Every laundry room must have a clothes drying rack. These were some of the key benefits to use a drying rack:
Air drying your laundry can lead to significant savings on electricity bills. A dryer is one of your home's most energy-intensive equipment.
Drying racks can help your clothes last longer. Consider the dust screen in your dryer!
Using a drying rack can significantly reduce the amount of dirt in your home.
There's no need to be worried about your dryer catching fire. Did you know that a clothes dryer is one of the home's most dangerous fire hazards?
What to Look into When Purchasing a Clothes Drying Rack
Before buying drying racks, important things to remember:
Do You Need a New One?
Determine whatever objects you have already that can be repurposed before buying a new rack. Set up a clothesline or put some old hangers to use. A clean bathroom vanity rod or a tidy railing in a sunny location may work.
Indoor vs Outdoor
Every clothing drying rack was appropriate for both interior and exterior use, although outdoor racks are typically bigger and stand tall in your garden. These racks are also ideal for bedclothes and towels because there may not be enough space inside for them to be adequately ventilated and dried.
Indoor racks, on the other hand, may be preferable for lighter items, especially if you wouldn't want to pin the clothing down. Indoors, there's less possibility of the clothing flying away, and it's also easier to collect and arrange the garments after they're dry.
How Much Space Do You Have?
A drying rack does not require a lot of space to function. There are choices to suit your requirements, whether you have a large garden that really can add that exquisite sunny-day fragrance to your laundry or if live in a flat and need the smallest dryer available.
When not being used, most racks store flat or extend to save space. We strongly advise you to take measures of the room or space where you intend to utilize the rack before making a purchase.
Laundry Hacks For Drying Your Clothes: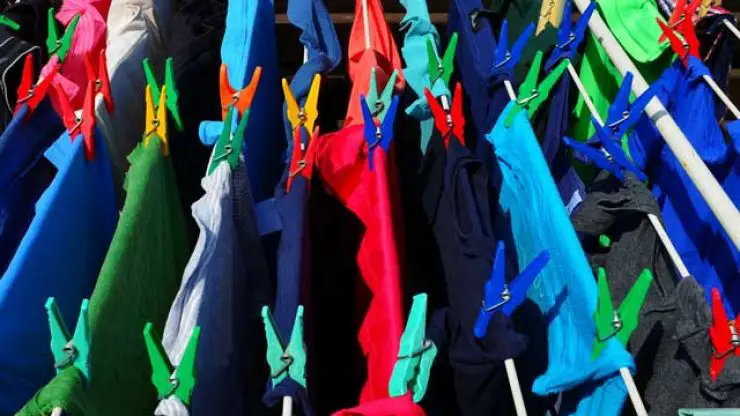 This appears to be common sense, but it's not. Shaking out your clothes as soon as they come out of the washing machine before hanging them to dry. Be sure to do the same with jeans, as the fabric might stiffen throughout the drying process, making it more difficult to pull them back into shape when they're dried.
Hang clothing as fast as possible after cleaning them; do not leave them in the washer! When you keep them in the washing machine for more than an hour, they begin to smell, and they maintain that odor long once they have dried.
How Do You Hang Clothes on a Drying Rack?
Always begin with the largest objects first. They are placed on top to allow for maximum airflow; otherwise, they will dry too slowly.
Smaller items, such as underwear and socks, should be placed at the bottom of the drying rack to dry faster. Otherwise, if your drying rack allows it, you can clip them up to dry.
If the item is heavy, make careful to dry it flat to avoid stretching.
Conclusion
There are still numerous advantages to drying your clothes on a clothes drying rack rather than using an electric tumble dryer.
Even though an electric dryer will dry things faster and more easily, but it will stain, wrinkle, and eventually reduce the lifespan of your clothes.
By using a clothing rack to dry your clothes outside or inside, you will extend the life of your garments, and save money on energy costs, and the portability of the rack makes shifting garments from interior to outside simple and quick.
FAQs
How Do You Dry Clothes in a Small Space?
If you're wondering how to dry clothes in a small space in the house, a clothes drying rack will be the appropriate space-saving alternative for completing the necessary laundry work. It would not just save your electrical bill, money, space, and time.
Is It Better to Dry Clothes Inside or Outside?
The slowly wet thing dries the more moisture in the surrounding air. Back to our wet clothing, they will dry faster in a space with dry air than in a space with moist air. In this situation, the clothing will dry faster indoors than it will outside.
What is the Clothes Drying Rack?
A drying rack for clothing is a counterpart for drying clothes. It works similarly to a clothesline in that it allows garments to dry after a laundry cycle and saves you from wasting energy by using a drier or radiator. Because of their design, drying racks are small, multifunctional, and easily stored, so even if you don't have much space, you'll find a place for it.
Recommended For You: