How Much Does a Sewing Machine Cost?
If you're just getting started with sewing or if you've been doing it on and off for years, chances are that you might need to consider buying a sewing machine. You might be wondering how much does a sewing machine cost? You might also be wondering what features or functions you should look for in a sewing machine and how much a sewing machine costs if I buy it used versus buying it new. If this sounds like something you'd like to read about, keep reading.
A sewing machine can be a handy tool, whether you're an expert seamstress or just starting in fashion. If you're looking to start sewing on your own, check out this guide on how much does a sewing machine cost. We'll take you through all the features to look for and where to find the best deals on the latest models so that you can start creating beautiful garments easily.
What is the Average Price for a Sewing Machine?
Generally, you can expect to spend anywhere from $100 to $1,000 on a sewing machine. The price will depend on the type of machine, its features, and the brand.
As a rule, the more expensive the machine, the more comprehensive the range of things it can sew. Also, the more expensive the machine, the higher the quality. If you're unsure how much your sewing needs require, look at our cost comparison of a different sewing machine. You might be able to find one that suits your needs without spending too much money.
Comparing the Costs of Sewing Machines: How Much Does a Sewing Machine Cost?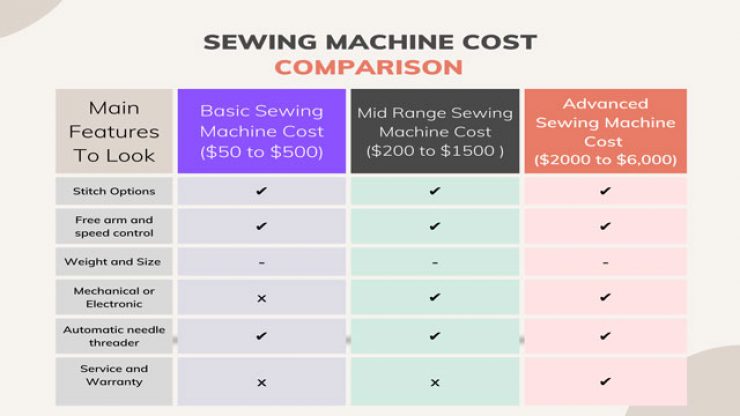 Basic Sewing Machine Cost
A basic sewing machine can cost anywhere from $50 to $500. The price depends on the brand, features, and quality. Some of the best machines on the market cost around $1,000. If you are just starting, a basic sewing machine can be purchased for as little as $100. You can always upgrade later as your skills improve.
Mid-Range Sewing Machine Cost
A mid-range sewing machine is an excellent option for those looking for features beyond the basics which don't want to spend much money. These machines typically cost between $200 and $1500. Some features on a mid-range machine include multiple stitch options, automatic needle threaders, and drop-in bobbins.
Advanced 0r Industrial Sewing Machine Cost
The cost of an advanced sewing machine varies depending on the type of machine, brand, and features. An excellent industrial sewing machine will cost you around $6,000. If you want a top-of-the-line model, you could be looking at a price tag of $10,000 or more. Of course, you can find cheaper machines, but they may not be able to handle the heavy-duty fabrics that an industrial machine can.
The price for an advanced sewing machine depends on the features and quality you need. If you plan to use your machine for quilting, embroidery, or other decorative stitching, you'll need to pay more for a machine that can handle those tasks. Also, if you're going to use your machine every day, it's worth investing in a high-quality product rather than something cheap. The tradeoff is that it will last much longer and won't break down as often as a lower-quality product would.
The Best Brands
If you're looking for a high-quality sewing machine that will last for years to come, you'll want to look at brands like Singer, Brother, and Janome. These brands offer machines that range in price from around $500 to $10,000, so you can find one that fits your budget.
Main Features to Look For
A good sewing machine should have various stitch options, an automatic needle threader, adjustable tension, a built-in bobbin winder, and a free arm. These features will make sewing projects quicker and easier and allow you to create professional-looking results.
Besides these standard features, you may also want to look for options like an extended table or a built-in light. These will make it easier to work on larger projects and provide more room to maneuver your fabric around as you sew.
The True Cost of a Sewing Machine: Materials, Production, and Pricing
If you're looking to buy a sewing machine, you'll have noticed several models available with varying price tags. You might think the difference in cost comes down to how expensive the materials used to make the machine are, but many other factors determine how much your machine will ultimately cost to buy. We will look at some of these additional considerations, including Fabrication and shipping costs, so you can make an informed decision when shopping for your next sewing machine.
Fabrication Methods
Different types of sewing machines are made using different fabrication methods. The most common practice is die casting, which is used to create the body and some of the internal components. Injection molding creates plastic parts, while stamping creates metal parts. Assembly is done by hand, and the final product is tested before it leaves the factory. Each method has its own set of materials and production costs that contribute to the final price of the machine.
Quality and Performance
When it comes to sewing machines, you often get what you pay for in terms of quality and performance. A lower-priced machine may be made with cheaper materials that don't perform as well or last as long as a more expensive one. Additionally, the production costs associated with lower-priced machines are often lower, meaning that companies have less invested in each unit. All of these factors can affect the final price of a sewing machine.
Import Tax
The import tax is one of the most critical factors in determining the final price of a sewing machine. The United States imposes a 2.5% tariff on imported sewing machines, which adds to the cost of the machine. In addition, most countries have value-added taxes (VAT) on imports, ranging from 5% to 20%. Finally, shipping and handling costs must be factored in, adding another $100 or more to the final price.
Conclusion
We hope you find helpful our article about how much does a sewing machine cost. By following this guide, you can find the best sewing machine for your needs and the best price for your desired product. If you have any questions about this guide or sewing machines, please contact us anytime. Thank you for reading, and happy sewing.
FAQs
Is Buying a Sewing Machine Worth it?
For most people, the answer is yes. A sewing machine can save you time and money by allowing you to sew your clothes, curtains, and other household items. Plus, it can be a fun hobby; however, before you purchase a sewing machine, it's essential to do your research to make sure you're getting the best machine for your needs and budget.
What Do I Need to Know When Buying a Sewing Machine?
Remember when buying a sewing machine is computerized vs mechanical, speed control, multiple stitching, automatic needle threader, size and weight, construction, budget, and free arm.
Which is the Best Sewing Machine in Low Price?
The best sewing machine at a low price is the Brother CS6000i. It has 60 built-in stitches, an automatic needle threader, and a top drop-in bobbin. It's an excellent machine for beginners or those on a budget.
What are the Benefits of Owning a Sewing Machine?
A sewing machine can be a great asset to have in your home. With a sewing machine, you can easily make repairs to clothing and other fabrics and create new garments and other projects from scratch. Plus, sewing is a relaxing and satisfying hobby that people of all ages can enjoy.
Recommended For You: